REPRESENTATION OF THE NEW TURKISH WOMEN IN THE EARLY REPUBLICAN ERA: THE MAGAZINE ANA (1938-1942)
Anahtar Kelimeler:
Ana Magazine, Woman Image, Early Republican Era, Modernization Project
Özet
One of the main components of the Turkish Republic and the modernization project is "women". In the establishment process of the nation-state, the identity of women as one of the two subjects of the nation was also reconstructed in the nation-state ideology. The aim of this study is to analyze the representation of women by the magazine Ana (1938-1942) which was a publication of a state institution, the Society for the Protection of Children. In this context, the study tries to understand the ways in which women are represented in Ana in a social context in which ideology of westernization gained a new impetus by the realization of many reforms, which aimed to regulate public and private lives of Turkish people. The study traces the image of women in their traditional roles as mother, wife and housewife, and their social and cultural roles. It is argued that the "new woman" constructed by the magazine is a set of images. The study reveals that the woman and life style fictionalized by the magazine are Western in terms of women's traditional roles, appearance and values. Qualitative content analysis, which is one of the qualitative analysis approaches, was used in the research. For this purpose, a total of 50 issues of the magazine Ana were studied in their entirety.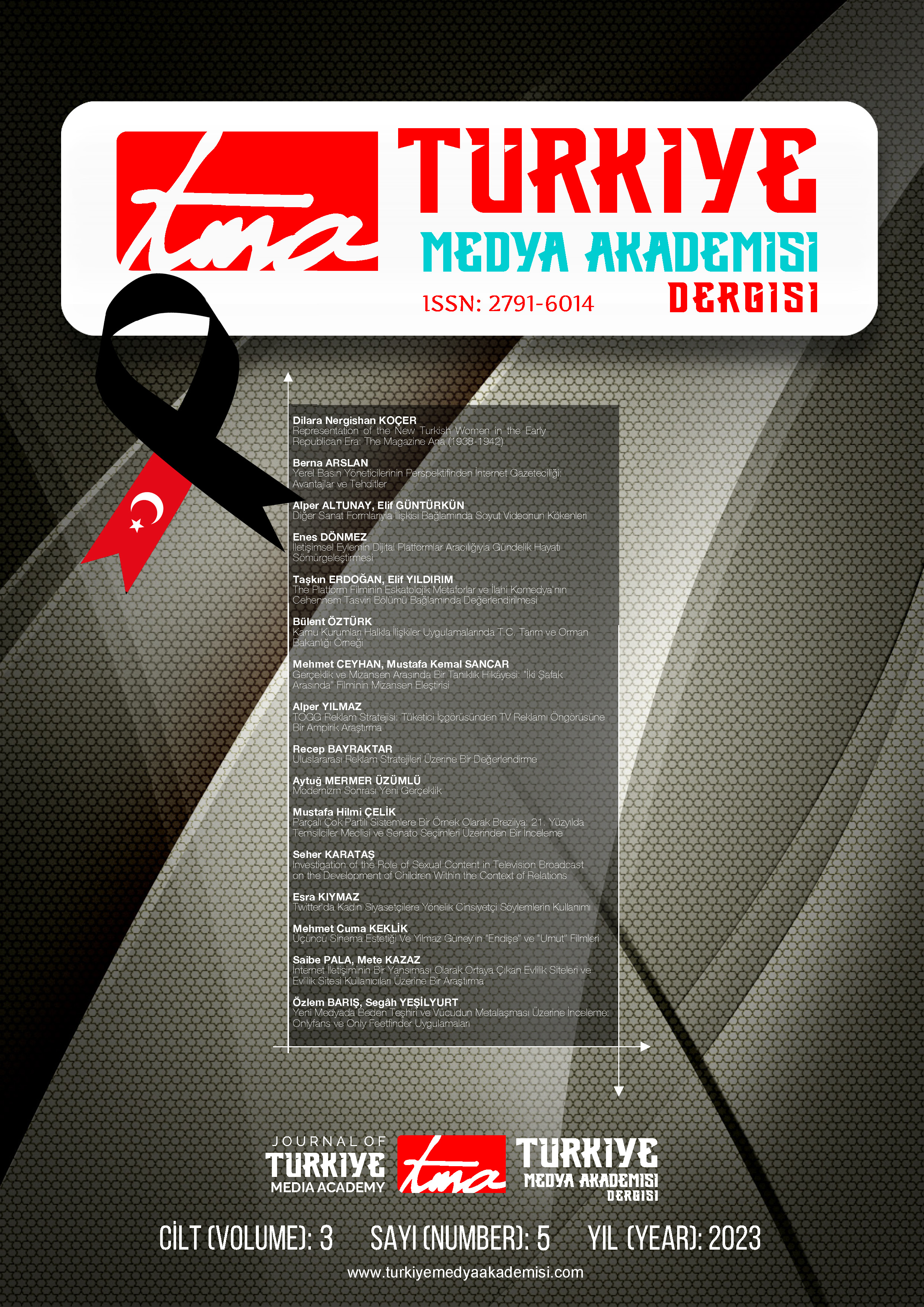 İndir
Yayınlanmış
02/28/2023 — 03/01/2023 tarihinde güncellendi
Nasıl Atıf Yapılır
Koçer, D. N. (2023). REPRESENTATION OF THE NEW TURKISH WOMEN IN THE EARLY REPUBLICAN ERA: THE MAGAZINE ANA (1938-1942). Türkiye Medya Akademisi Dergisi, 3(5), 10–39. https://doi.org/10.5281/zenodo.7633271 (Original work published 28 Şubat 2023)
Bölüm
Araştırma Makaleleri
Lisans
Telif Hakkı (c) 2023 Türkiye Medya Akademisi Dergisi
Bu çalışma Creative Commons Attribution-ShareAlike 4.0 International License ile lisanslanmıştır.